Heartbreaking As Mother Is Slapped With ksh 66Million ICU Bill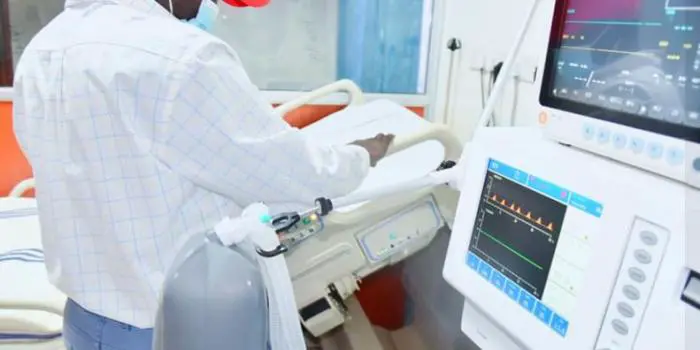 A Nairobi-based woman is grappling with a Ksh66 Million Bill for her child who has been admitted to the Intensive Care Unit (ICU) for three years.
Unny Mutune Nyaata is appealing to Kenyans to help in offsetting her son's Jordel who has been fighting for his life ever since an accident in 2017.
"He is progressing well. The bill is still increasing and we are appealing for help," she told Kenyans.co.ke.
In June 2017, Nyaata was involved in an accident with her two-month son on what was a normal drive.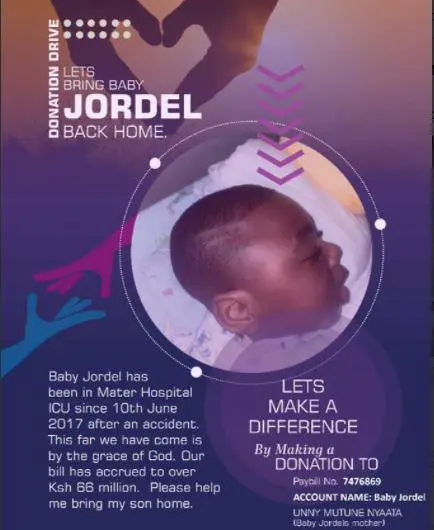 A poster for the fundraiser for Jordel's medical bill.
"What I remember is screaming as I saw a lorry right in front of us then I couldn't see a thing I thought this is it. I just wanted to breathe. My son was in my arms but as much as I could not see him, I knew something was wrong he was too quiet," she narrated.
It was later she would learn that the injuries to her son were much more serious as she got scarred in the accident.
A medical report revealed that the son suffered a traumatic spine injury after a road Accident.
He successfully underwent an Anterior Cervical Discectomy and Fusion (ACDF) which is a surgery to remove a herniated or degenerative disc in the neck. 
The baby has been dependent for 2-3 years with a tracheostomy and his condition has been improving as he is being prepared for home-based care.
Nyaata, in her post, noted that despite the huge bill, the hospital staff had treated my son like their very own child for the period he has spent there.
"The ICU team made ICU not feel like those capital letters. All my memorable times with my son have been spent with this team.
"Them dressing my son for birthdays, singing alongside me and blowing candles to a cake we would really enjoy and funny enough it felt like I was just home celebrating like any other parent to their kids," she posted.
Recounting that the period had been the hardest in her life, Nyaata expressed optimism for her son.
"My son changed me, ICU changed me. Life ain't the same way I viewed it three years ago. I still ask the reason for this, they say it all happens for a reason but, honestly, I am yet to find mine," she stated.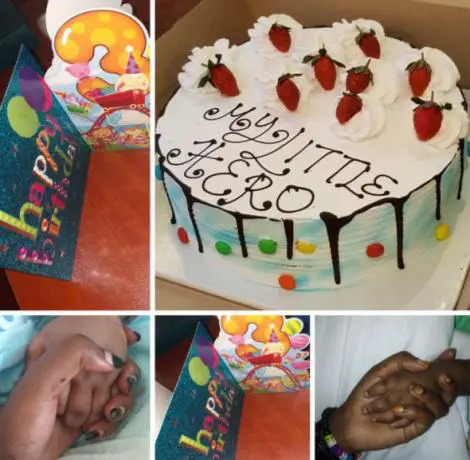 The birthday celebration for Jordel's 3rd birthday in March 2020